Jennifer Lopez's "Booty" Is the Shallowest Music Video of All Time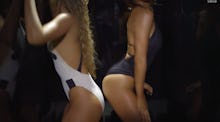 After weeks of wildly escalating anticipation, Jennifer Lopez's "Booty" video is finally here — and it's an enormous letdown.
Lopez and Iggy Azalea are cashing in on the trend Nicki Minaj consummated in her mind-blitzing "Anaconda" video with an even more explicitly booty-devoted song. "Booty" has all the shots of the booties one could ever stomach — booty side shots, shots from the floor looking up at said booty from underneath, booty rubbing against other booty, booty covered in gelatinous substance — and there's literally nothing else. This is the sort of thing that's maybe supposed to be sexually empowering, but it's not. Minaj's video, at least, was fun.
Ultimately, the most interesting thing about "Booty" is the rabid anticipation it provoked. Prior to its release, publications like Vogue hailed the video as final confirmation that, in the post-"Anaconda" and "Booty" world, sex appeal would be "inextricably linked to the prominence of a woman's behind." The New York Times even published a piece called "For Posteriors' Sake" on Thursday with a few worshipful lines about J. Lo's derriere. 
But this is nothing revolutionary. Rather than usher in a new era, if anything, the "Booty" video has killed the booty video — or just revealed how shallow this whole trend in music has been. We need to start thinking more deeply about what makes a woman beautiful, empowered and sexy because watching a booty shake for 4:16 straight is, frankly, boring.