Freddie Mercury and Michael Jackson Collaborated in the Early '80s — And Now You Can Listen to It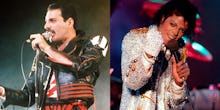 The two greatest male vocalists in pop history have finally come together for a collaboration ... years after their deaths.
Queen is set to release the compilation album Queen Forever this November and has included a cleaned-up version of "There Must Be More to Life Than This," the never-before-released duet between Freddie Mercury and Michael Jackson.
The song's history is complicated, as it was initially written by Mercury for Queen's 1982 album Hot Space but was never completed. As Hitfix reports, Mercury went to Michael's home to record his vocals, but they never made it into a finished product. The band tried redoing the track for The Works in 1984, but once again failed to complete the song. It finally showed up on Mercury's solo album Mr. Bad Guy in 1985, sans Jackson. For this new release, producer William Orbit was brought in to finish the original duet between the heavy hitters. In contrast to Mercury's more subdued solo recording, Orbit added strings, guitars and "bombast." It shows.
The track is definitely of its time and will feel distinctly retro to listeners, but it's "new" Freddie Mercury and Michael Jackson. Can you really complain? The two play well off each other, with Jackson's softer tenor juxtaposing nicely with Mercury's power. For Michael fans this is a more interesting duet than Jackson's recent single with sound-alike Justin Timberlake. And for Queen fans, if this isn't your thing, there will be three more unreleased Freddie Mercury songs on Queen Forever.
h/t Vulture