This High School Football Player Has Set the Bar for Postgame Interviews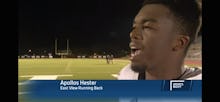 Apollos Hester is a wide receiver for the East View Patriots in Georgetown, Texas. Following his team's 42-41 come-from-behind win over Vandergrift High School, Hester turned the postgame interview — a traditionally dull, cliche-ridden affair — into a two-minute motivational sermon that's certain to go down in all-time Internet lore.
From the tamest of jumping off points, Hester transforms — like his namesake — into a golden god of light, truth and prophecy in this instant classic: 
Some of Hester's best excerpts from the impromptu speech, all of which are practically tailor-made for a motivational seminar:
"Sometimes in life, you're gonna start slow. That's OK. We told ourselves, 'Hey, we're gonna start slow, we're gonna keep going fast. We're gonna start slow, but we're always, always gonna finish fast.""It took guts, it took an attitude—that's all it takes. That's all it takes to be successful is an attitude.""You can do anything you put your mind to, never give up on your dreams, keep smiling, no matter what you're going through. If you fall down, just get up. If you can't get up, your friends are there to help you."
Brilliant.
Hester isn't all talk either. The kid can definitely play.
On the unlikely occasion that football doesn't pan out, he doubtlessly has a future on the motivational-lecture circuit or perhaps cutting WWE promos. One way or another though, Texas TV stations need to find any and all excuses to stick a microphone in Hester's face on a daily basis.