Pope Francis Delivers a Powerful Message on Religion That Everyone Needs to Hear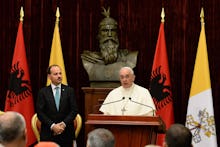 Ciro Fusco/AP
The news: The usually chill Pope Francis was quite fired up during a speech Sunday in Albania.
Using the formerly communist country as an example of two religions working harmoniously together (in this instance, Christianity and Islam), the pope delivered a scathing critique of extremists who are "perverting" religion as means to justify violence. 
"Let no one consider themselves to be the 'armor' of God while planning and carrying out acts of violence and oppression!" Francis told a small crowd, which included Albanian President Bujar Nishani, in the capital city of Tirana. "May no one use religion as a pretext for actions against human dignity and against the fundamental rights of every man and woman, above all, the right to life and the right of everyone to religious freedom!"
A clear message: Francis lauded Albania's interreligious harmony as an "inspiring example" for the world, but pointed to a number of other places where such harmonizing could use some serious work. 
"This is especially the case in these times in which authentic religious spirit is being perverted by extremist groups," he added, likely referring to recent acts of terrorism perpetuated by groups claiming to act in the name of God. 
As the Associated Press notes, security was beefed up for the Pope's 11-hour visit due to threats from the Islamic State. The Vatican, however, said no special security measures were taken. 
Observers noted that his interactions with the 300,000-strong crowd for his mass were "reduced compared to his previous foreign trips." 
A solid track record: Francis' comments fall in line with his past forward-thinking remarks. Last month, he told investors to lend money to responsible lenders that "focus on social good instead of profits." And in May, he took a surprising moment out of his trip to Israel to pray at the barrier wall running through Bethlehem separating Israelis and Palestinians.