Apple Is Reportedly Shutting Down Beats Music After Buying It for $3 Billion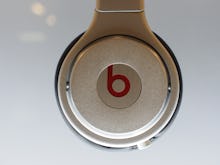 It appears the beat doesn't go on. 
TechCrunch reports that Apple will soon ax Beats Music, the streaming music service Apple bought for a mind-boggling $3 billion in May. 
The writing was on the wall for Beats Music. The report notes that "many engineers" from Beats Music have already shifted duties to other projects within the company, like iTunes. Observers noted that the new family of iPhones released earlier in September don't come preloaded with the Beats Music app, and that CEO Tim Cook has rarely mentioned his big buy since the acquisition was announced.
An Apple spokesman told Recode that the report is "not true," but didn't elaborate. Recode adds that the streaming service won't shutter but instead "modify over time." 
Although the brand name might be sent to the corporate graveyard, the guts of Beats Music won't. Business Insider notes that the hardware aspect of Beats (i.e., those clunky headphones athletes love) will stick around for the long haul, likely incorporated into iTunes and iTunes Radio.  
Following Apple's purchase, the Internet was filled with think pieces of what the company would do with the shiny new streaming service. Unlike Rdio and Spotify, Apple had previously been relatively unsuccessful in gaining a foothold in the streaming-music-service area. Now it appears that Apple and Bono of U2 may be collaborating on a new "interactive format for music" that will likely substitute for Beats. The little-known technology is supposed to roll out in about 18 months and supposedly can't be pirated.
"I think it's going to get very exciting for the music business," Bono told Time, adding that the invention "will prove so irresistibly exciting to music fans that it will tempt them again into buying music – whole albums as well as individual tracks." Yes Bono, spending more money sounds very exciting.