The U.S. Just Started Bombing Islamic State Targets in Syria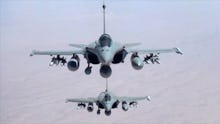 The Pentagon announced on Monday that the U.S. and international partners had begun air strikes on Islamic State targets in Syria as part of President Obama's plan to "degrade and destroy" the militant group.
The New York Times has the details:
American fighter jets and armed Predator and Reaper drones, flying alongside warplanes from several Arab allies, struck a broad array of targets in territory controlled by the militants known as the Islamic State. American military officials said the targets included weapons supplies, depots, barracks and buildings the militants use for command and control. Tomahawk cruise missiles were fired from United States Navy ships in the region.
CNN reports that Saudi Arabia, Jordan and the UAE are participating in the strikes.
The Pentagon told Reuters that the current operation is "ongoing." Here's more from Pentagon Press Secretary Rear Adm. John Kirby:
"I can confirm that U.S. military and partner nation forces are undertaking military action against ISIL terrorists in Syria using a mix of fighter, bomber and Tomahawk Land Attack Missiles."Given that these operations are ongoing, we are not in a position to provide additional details at this time. The decision to conduct theses strikes was made earlier today by the U.S. Central Command commander under authorization granted him by the commander in chief. We will provide more details later as operationally appropriate."
The strikes come nearly two weeks after President Obama authorized an extended campaign of air strikes to drive back the IS following the militant groups violent push to seize territory in Syria and northern Iraq over the past several months.
This video, uploaded by eyewitness Alatareb to Facebook and verified by Storyful, is said to show air strikes near Kafr Dariyan in rural Idlib:
It looks like Twitter user Abdulkader Hariri in Raqqah may have been the first person to identify the air strikes: