This Syrian Man Is Livetweeting the U.S. Strikes Against the Islamic State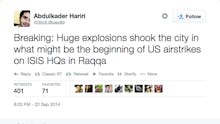 The U.S. and international partners announced on Monday at 9:30 p.m. Eastern Daylight Time that airstrikes had begun in Syria as part of a campaign to "degrade and destroy" the Islamic State. 
You can follow Hariri on Twitter at @3bdUlkaed6r:
This is what war sounds like in the 21st century.