Metta World Peace Will Now Wear Actual Pandas on the Court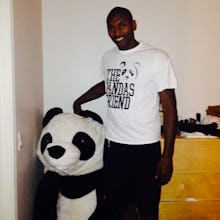 Just when you thought you were done hearing about Metta World Peace's antics now that he's changed his name to The Panda's Friend ... wait, you never thought that. 
Plus you were right. Turns out the former NBA player, who was born Ron Artest, is serious about his obsession for pandas — serious enough to take them to the basketball court for the Sichuan Blue Whales of the Chinese Basketball Association.
The 34-year-old World Peace has unveiled a new line of shoes, available in both black and white, which sport a panda's head and arms on the shoe's tongue.
He could have had this in mind for some time, as he declared last month, "If you think the name is creating a buzz, wait for my first appearance on court." 
Courtside Access first reported that the plan was to engage the crowds with the new shoes: World Peace emerges onto the court, according to reports, he'll detach the panda's head and throw it into the crowd. The person who catches it would be the panda's — as in World Peace's — friend for the day. 
Alas, it's not to be.
However, for what it's worth, the fans are loving the shoe, as proven by some of the reactions that World Peace is retweeting on Twitter.
When World Peace announced his $1.43 million move to China in August, it became a viral sensation in the country that loves basketball and NBA stars. "Metta World Peace signs with CBA" recorded 8,960,000 mentions on Baidu.com, an e-commerce platform, and 25.75 million impressions on Weibo, China's biggest social network. 
The games have not even started, and World Peace is well on his way to becoming hugely popular among the fans, with his endearing panda-name-change gestures — something that his second incarnation really needed after the infamous "Malice at the Palace" incident a decade ago.