The CDC's Latest Ebola Update Is Absolutely Terrifying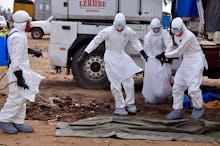 The news: According to Reuters, "between 550,000 and 1.4 million people in West Africa could be infected with the Ebola virus by January 20, 2015, according to a report issued on Tuesday by the U.S. Centers for Disease Control and Prevention (CDC)."
That's a fairly terrifying estimate. The New York Times reports that the CDC's alarming 1.4 million number is based on the 5,864 cases officially cited by the World Health Organization (WHO). Reuters notes that this number "is significantly underreported, and that it is likely that 2.5 times as many cases, or nearly 20,000, have in fact occurred."
In a recent article in the New England Journal of Medicine, experts from the WHO and Imperial College wrote that West Africa's outbreak "could infect 20,000 people as soon as early November unless rigorous infection control measures are implemented, and might 'rumble on' for years in a holding pattern."
The writing's on the wall — and the world is paying attention. In its first emergency meeting on a public health crisis last week, the U.N. Security Council declared West Africa's Ebola outbreak a "threat to peace and security." Secretary-General Ban Ki-moon announced that the United Nations "will deploy a new emergency health mission to combat one of most horrific diseases on the planet that has shattered the lives of millions." And earlier in September, President Obama announced that the U.S. will send 3,000 troops to help tackle West Africa's Ebola outbreak as part of a new initiative to combat the spread of the disease. 
Editors Note: Mar. 3, 2015 
An earlier version of this article cited Reuters reporting, but did not include quotations around the cited passage. The story has been updated to fully attribute Reuters' language.