2014 Is the Year That Rock Came Back to Life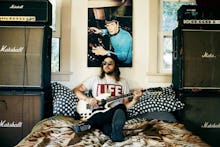 Earlier this month, Gene Simmons took it upon himself to kill rock 'n' roll once and for all. "For performers who are also songwriters — the creators — for rock music, for soul, for the blues — it's finally dead. Rock is finally dead," the KISS front man declared in an interview for Esquire.
And he wouldn't be completely wrong from a commercial standpoint. After all, U2, which held the Biggest Rock Band in the World title for about 20 years straight, released its latest album two weeks ago to disgust and scathing satire. The 2014 MTV Video Music Award for Best Rock Video went to Lorde, who hardly sings rock at all. And for the past few years, the genre has been dominated by an Americana crowd that prefers banjos to amplifiers and open fields to garages.
But if you look beyond the Top 10 and MTV, you'll see a totally different story. Yesterday, with the release of King Tuff's Black Moon Spell, it became clear that rock is striking back — and has been for a whole year now.
King Tuff has crystalized a scene that's been slowly rising for the past year. It's been an incredible year for rock — rising stars like Gary Clark Jr. and Parquet Courts have worked alongside workingman legends like The War on Drugs, Jack White, Ty Segall and Ryan Adams to prove that our most vital music is still vital. With some major attitude and the revival of the electric guitar, these guys are resurrecting a spirit too often declared dead. Tuff represents the heart of that DIY mentality and process that keeps rock 'n' roll thriving today.
King Tuff may be from Vermont, but he's most at home on the road. He shares the self-made ethos that rejects support from labels in favor of autonomy on the theory that, if the music is good, true fans will show up anyway. "Playing basement shows, that's what we grew up doing. That's close to my heart. And those shows are always really fun because they're so packed and insane," King Tuff told Vice last year. "Rock music should be fun."
And King Tuff's latest is fun and then some. The guitar has been relegated over the past couple of years to dreary self-seriousness — the earnest strumming of Mumford & His Lumineers. King Tuff is gleeful to the point of giddiness, at points painfully earnest in his self-professed love for rock 'n' roll culture. "Rainbow's Run," perhaps the most fully realized song in the album, burns through eras of guitar playing, from grungy chord blasts to orchestral arpeggios to an overlaid, atonal punk solo. There's an ode to the record player ("Black Holes in Stereo"), a perfect '80s pop song ("Eddie's Song") and random, minute-long experiments in noise.
Rock is only partially about the music, though. And in an era where most pop stars are often primarily PR artists, Tuff represents the growing counterculture of musicians who — surprise — don't care what the media thinks. King Tuff isn't afraid to bite back at his critics. "Dear pitchfork I'm sorry my new record isn't 'pretty' enough for you. I'm also sorry that YOU HATE ROCK," he tweeted yesterday at Pitchfork's Ian Cohen, who gave Black Moon Spell a limp review. Jack White, the biggest fish in the net, released the thundering Lazaretto earlier this year and has been pouting, snarling and ranting his way through stadiums all summer; Ty Segall tore everyone's ears off at Conan while wearing jewels on his face.
It's clear, then, that the people who care least about whether or not rock is dead are the ones who know the truth. It isn't — they're making it, still.