That 'Faux Fur' Kohl's Has Been Selling Comes From Real, Adorable Animals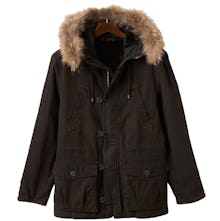 Screenshot/Kohl's
The news: The only "faux" thing about a Kohl's "faux fur" men's parka is its label.
The Humane Society says they bought the R&O Hooded Parka online last June. Investigators found with "a great degree of certainty" that it's fur from a raccoon dog. The Humane Society spokesman P.J. Smith said Kohl's is misleading customers who want to engage in a cruelty-free lifestyle.
"This is obviously problematic for people who want to go to a store and buy something not associated with the fur trade cruelty," Smith told USA Today. "We believe the best way for retailers like Kohl's to correct these problems is to go fur-free because this is an industry-wide problem." 
Indigenous to Asia, the animals are commonly skinned and marketed as fake fur. It's in the same species as the dog, fox and wolf, but not a raccoon, despite the name:
The context: This isn't the first time The Humane Society has busted Kohl's — in fact, it's the second time within a year. Last December, the retailer was caught selling purses that were lined with real rabbit fur. USA Today reported it reached out for comment from Kohl's but didn't hear back.