Hipster Pants Are Way Too Tight for the New iPhone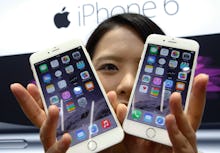 Tight pants might be flattering to your post-summer figure, but they're doing a number on the iPhone 6 Plus. 
Concerned hipsters customers on MacRumors' message boards are complaining about a fun new feature on the Apple gadget — the phone bends after carrying them in their pockets:
Yesterday, I left at 10am with the iPhone in my left FRONT pocket of my suit pants. I drove 4 hours to a wedding, which also involved a lot of sitting during dinner etc but also 2-3 hours of dancing. I left at 2am and went to bed, driving home 4 hours back. 
MacRumors explains that the Plus' greater surface size is big trouble for people who like sitting on the phones all day: "Unlike smaller phones that can slide out of the way, pressure points from sitting or bending now have greater potential to cause the longer iPhone to flex in a way that will damage the device. "
You can slightly make out the bended frame in this photo:
Here's another photo:
Consumers have been worried about this issue since Apple CEO Tim Cook unveiled the new gadget earlier this month. Unbox Therapy subjected the new phone to a bend test shortly after its release:
MacRumors helpfully suggests taking the phone out of your pocket upon sitting. We hope this heralds in a new age of phone holsters.