Meet the Three Worst People in Philadelphia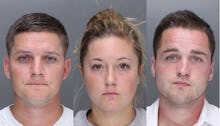 The news: Philadelphia police have released mugshots of the three residents charged in the brutal beating of a gay couple on Sept. 11.
Image: The assailants just before the assault, as captured on a surveillance camera.
The attack was particularly vicious, according to the Philadelphia police:
On September 11, 2014, at 10:45 pm, the complainant, a 28 year-old male, along with a friend, a 27 year-old male, were on the 1600 block of Chancellor Street when they were approached by a group of unknown white males and females. As the group approached the complainants they made disparaging remarks about their sexual orientation. The group then attacked the complainants holding them while other members of the group punched them in the face, head and chest. During the assault one of the complainants dropped his bag containing his cell phone, wallet and credit cards. When police approached one of the suspects picked the bag up from the ground. The group then fled and were last seen north on 16th Street towards Walnut Street. Both complainants were transported to Hahnemann Hospital for multiple injuries. One complainant was treated for fractures and deep lacerations to his face requiring surgery and his jaw wired shut.
The beating gained national attention after an anonymous Twitter user @FanSince09, using surveillance footage released by Philadelphia law enforcement officials, was able to quickly identify the attackers after his followers identified a nearby restaurant as La Viola in Center City.
"Not only were the attackers cruel enough to commit a hate crime, they were dumb enough to do it just hours after checking in and posting photos of their night out on Facebook," wrote Mic's Tom McKay. @FanSince09 then alerted Philadelphia Police Department Det. Joseph Murray, leading to warrants the trio's arrests.
Twitter user @Clarknt67 released on Wednesday a disturbing Storify collection of Knott's Twitter feed, which is laden with all sort of homophobic and xenophobic comments. Here are some choice bits:
It also looks like Knott also has a drinking problem:
And a spoiled brat problem:
To make things worse, NBC Philadelphia reports Knott's father is Chalfont Borough Police Chief Karl Knott in suburban Philadelphia. Hopefully Philadelphia authorities will overlook Knott's law enforcement connection and throw the book at this little brat.