Kansas Is Taking the Threat of Zombie Apocalypse a Bit Too Seriously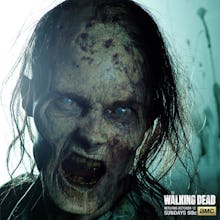 The news: No state is more prepared for a zombie attack than Kansas, especially since Gov. Sam Brownback announced Monday that he will proclaim October "Zombie Preparedness Month."
It sounds silly at the surface, but the idea isn't some sly AMC promo to get people to watch The Walking Dead. Organizers said they wanted an "engaging way" to get people to think about emergency preparedness. "If you're prepared for zombies, you're prepared for anything" is the mantra of the governor's office. "If you're equipped to handle the zombie apocalypse, then you're prepared for tornadoes, severe storms, fire and any other natural disaster Kansas usually faces."
Nothing screams fun more than thinking about stocking up on nonperishable foods while bloodthirsty creatures roam in search for brains. But given that Kansas frequently has to deal with twisters, storms and other severe weather, this is actually a brilliant way to ensure that citizens are planning for the worst.
The trend: Apparently scaring its citizens with the threat of an imminent zombie attack is the latest fun craze among state, local and federal officials. The Centers for Disease Control and Prevention employed a similar strategy in 2011, special website, helpful blog posts and all. CNN's Don Lemon was incredulous at the time:
CDC spokesman David Daigle told Lemon that the agency came up with the zombie action plan as an alternative to a boring annual hurricane preparedness site. "Every year we do this campaign, but does anyone listen read or pick up on it?" said Daigle. "We knew that we would reach a new audience through the social media audience. The response was astounding."