You've Been Listening to Disco All Year (And You Didn't Even Know It)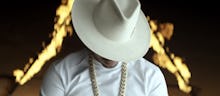 Disco was the EDM of '70s music, incredibly popular and broadly loathed. In the late '70s, disco would dominate the charts, inspire a litany of disco remixes and even launch a National Disco Week (declared by New York). But all that time it was despised. Questlove of the Roots described it in Vulture as "mechanistic, largely impersonal," arguing that "it damaged the culture of live performance and decimated the value of the black musician." It was so hated that it spawned a night in which fans literally blew up records at a major sporting event.
But in the last couple of years, disco has made an incredible resurgence, becoming way hipper than it ever was in the '70s. In fact, disco sounds are behind some of the biggest pop hits of the past year. And they're not going anywhere soon.
It's been almost 18 months since the release of Daft Punk's "Get Lucky" and the sound that record inaugurated is everywhere. The most recent example is Jennifer Hudson's new album JHUD, which came out last week. Hudson, an American Idol alum, has a massive voice that she usually throws into ballads. But more than half of JHUD is disco (her previous album included only one danceable track). Hudson told BuzzFeed that she "use[d] music and soul to actively reminisce on those fantasy nights of the '60s and '70s … a time in music history I just live for."
Hudson is hardly alone. There's Chris Brown, who released the single "Fine China," his most explicit Michael Jackson homage, and pushed it just this month on his brand new album. Pharrell Williams not only sang on "Get Lucky," but his most recent solo album, G I R L, is packed with string sections, big bass lines and smooth, clipped guitar. (On his last solo album, from 2006, he was a rapper.) The duo Nick & Knight, composed of one former Backstreet Boy and one ex-New Kid on the Block, jump on the disco train several times on their eponymous debut album. Child star Jesse McCartney tried to reinvent himself with a killer disco album a few months ago. Even the indie kids are getting into it: Arcade Fire's Reflektor is straight disco from James Murphy, the man behind LCD Soundsystem. Suddenly, all the kids who would have been burning disco at the ballpark in the '70s want to make disco records.
But it actually isn't even a new fad — it's just much cooler now to claim disco as an influence. Prominent artists have been making disco-indebted music for at least a decade. Chromeo, Kylie Minogue and Usher, for example, have all put out music this year. Nile Rodgers, who helped develop disco in the first place as a member of Chic and then assisted Daft Punk and Avicii in 2013, announced that he will be going into the studio with Duran Duran and Bryan Ferry. The posthumous Jackson album that came out this year, Xscape, featured "Love Never Felt So Good," originally recorded as a demo in 1983. Polished and resuscitated by contemporary producers, this song didn't just sound vintage — it was like a time capsule. And still it peaked at No. 9 on the Hot 100 in 2014.
James Friedman, who cofounded the label Throne of Blood with the "dance punk" group the Rapture, told NPR that disco's prominence might be related to demographics.
"Disco may not be aggressive enough for kids, but adulthood creeps up before many of us lose the desire to get turnt," he said. "When it's less about raging, […] disco makes for a much better soundtrack.[...] The fact that disco remains a relevant touchstone for cool kids ... suggests that it still has legs."
"I try to put out what I feel is missing," Pharrell told Vulture. "There was a lot of minimal stuff for so long. […] I needed color."
That's why disco never really went away. Even when it was uncool, people kept playing it and just stopped calling it for what it was. The 2000s saw all sorts of names invented to conceal music's disco underpinnings: "electro-pop," "nu-disco," even "dance punk." The name changed, but the primacy of the beat, heavy and never-ending, did not.
Last year, people stopped making up new names. The success of "Get Lucky" signaled a change in perception. Fully embracing a vintage disco sound resulted in the biggest hit of the duo's career: "Get Lucky" spent 28 weeks on the Billboard Hot 100 chart and peaked at No. 2. 
"The '70s and '80s are the tastiest eras for us," Daft Punk told Rolling Stone. The duo may hide their faces, but they did not hide their influences. These days, nobody does.