Watch This Amazing Female Russian Cosmonaut Shut Down a Sexist Reporter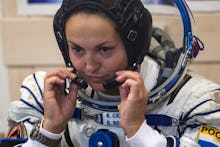 "Aren't you interested in the hairstyles of my colleagues?"
That was Russian cosmonaut Yelena Serova's answer to a reporter inquiring about everyday life aboard the International Space Station. Apparently only female cosmonauts can be asked about their hair and grooming routines, even if they're about to make history.   
The question came in the middle of a press conference in which Serova and her colleagues, NASA's Barry Wilmore and Russia's Alexander Samokutyaev, discussed their upcoming mission to the ISS. She was badgered with gendered questions throughout: At one point, reporters asked how her 11-year-old daughter would cope with the absence of her mother, and another asked if she'd continue to put on makeup. 
She went along with them at first but then lost her patience when the press couldn't seem to come up with a question that didn't revolve around her appearance. 
Skip to 30:30 to see the question and her response: 
While these aren't inherently problematic questions — the topic of parenting, for example, is an interesting conundrum most people will never grapple with — they're almost never posed to men.
"My flight is my job," she said through a translator. "I'll be the first Russian woman who will fly to the ISS. I feel a huge responsibility towards the people who taught and trained us and I want to tell them: we won't let you down!"
A hard road: The ISS has been home to quite a few female astronauts, including NASA's Sunita Williams, who owns the record for the longest spaceflight by a woman, but Serova is the first Russian woman to stay aboard the station. She follows in the footsteps of Valentina Tereshkova, a Soviet cosmonaut who became the first woman in space in 1963.
Russia's record didn't hold, however, and Serova is only the fourth Russian woman in space. And as NBC News points out, their own compatriots haven't always been the kindest; in 2005, the director of Russia's premier space medical institute said women shouldn't lead missions to Mars because they were "fragile and delicate creatures."
Serova's got this, though. She was handpicked for the ISS mission by Vladimir Popovkin, the then-head of the Russian Space Forces, and she studied at the Moscow Aviation Institute, a highly regarded spaceflight institution. 
"She deserves, and I'm sure will earn and ultimately receive, a major role in human spaceflight in coming decades," said NBC News space analyst James Oberg. 
Serova beautifully handled the absurdly sexist comments launched in her direction, and she's bound to do the same with the ISS mission.