The Military Is Allowing Immigrants Without Documents to Serve in the Armed Forces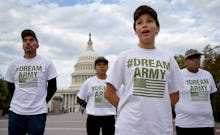 The news: Pentagon officials announced Thursday that a "small number" of young immigrants without documents will be allowed to join the military and fast-track their way to citizenship. 
Only those with special language and medical skills and who have been granted deportation deferrals by the Obama administration will be allowed to serve in the armed forces, the New York Times reports. 
The new rules, which expand on an already existing program called Military Accessions in the National Interest, limit the new initiative to 1,500 recruits each year. According to the New York Times, the program is already backlogged with applicants, although administrations officials say they only expect "not more than a few dozen" to be admitted.
What it means: Sure, the number is small, but it's not insignificant. Supporters of the Dreamer movement who have been pressuring the Obama administration to let immigrants enlist said they were both "heartened and sharply disappointed" by Thursday's decision. 
"This is a first step, and we commend the administration for recognizing the skills and talents a lot of us do have," Cesar Vargas, a leader of the Dream Action Coalition, told the New York Times. "But it definitely needs to be expanded."
Sen. Dick Durbin (D-Ill.), who has been pushing President Obama for broader enlistment with this group, said the move was a "missed opportunity" for something more encompassing.
It's not unusual for the military to admit non-citizens. In fact, roughly 5,000 "green card" members are admitted each year. Less than a decade ago, the military started to allow in "foreigners with nonpermanent visas, such as students or tourists, if they had special skills that are highly valued," according to the Military Times.
Then again, not everyone's happy. Here's how Fox News presented the announcement:
Why it matters: Obama has been frustrated by the lack of action from Congress to pass meaningful immigration reform. This move doubles down on his promise to take it into his own hands by using his executive authority to change immigration policies and create pathways for citizenship.