41 cheap & easy ways to solve the gross problems around your house
There's finally a good way to get between those computer keys.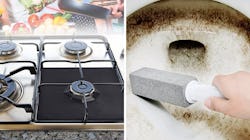 We may receive a portion of sales if you purchase a product through a link in this article.
There's plenty going on from one day to the next, and with all that you're juggling, cleaning and keeping things tidy often falls through the cracks (or you just can't be bothered). The good news is that there are lots of clever gadgets and handy helpers to help you get it all done without much elbow grease necessary. To that end, here's a list of cheap and easy ways to solve the gross problems around our house.
Many items on this list are actually genius-level gadgetry that does the heavy lifting to yank the gross-o-meter back to manageable levels. For example, a coffee maker descaler that not only cleans the inner workings of your coffee maker, but it also improves the flavor of your morning cup of joe? Or perhaps a cellphone sanitizer that rids your device of whatever's living on it and an extendable tile cleaner so you don't have to stretch.
Keep scrolling to find more clever ideas that'll make your home shine in less time.