These 48 really smart things are really cheap on Amazon
Clever products that make life easier.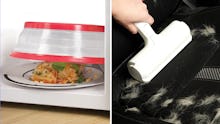 We may receive a portion of sales if you purchase a product through a link in this article.
I get a particular thrill when I search high and low for a great deal, and research shows that I'm not alone. The human brain begins to release dopamine, sometimes referred to as the feel-good neurotransmitter, in anticipation of a cheap price tag — err, reward — so the hunt is all part of the fun.
The following list is full of smart items that make life easier. From foot creams that repair dry, cracked skin to vented microwave covers that help prevent messes, these items are all incredibly useful. And since each one is $30 or less, you might end up scoring more than one deal while you're at it.