52 gifts for dads who say they don't want anything
Gifts he'll reach for on a regular basis.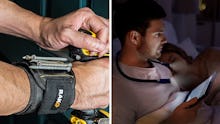 We may receive a portion of sales if you purchase a product through a link in this article.
When the clock is ticking, it's tempting to default to the same standard present year after year. That said, a good gift is often a unique, practical gift — especially when you're strapped for ideas, and especially when you're trying to find gifts for people who don't want anything. In order to find a genius gift for the man who says they don't want anything, it helps to first think about his daily routine; then think about the ways in which it can be improved.
Does your dad work out often and try to stay active? Gift him a genius fitness product that streamlines his routine. Is he particularly into tech products? Get him a gadget that helps to make his go-to device even more accessible. Whatever it is that brings him joy, ensure that your gift is something that amplifies that, so he'll reach for it on a regular basis — and think of you every time he does.