How a former child star "tripped and fell" into OnlyFans
Years after his nude photos were splattered across the internet without his consent, 'Wizards of Waverly Place' star Dan Benson reclaimed his agency.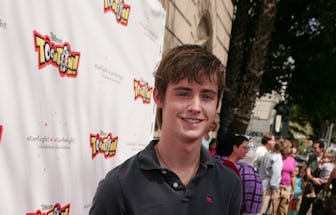 Bei/Shutterstock
At this point, pretty much everyone knows Hollywood is a tough place to be — and an even tougher place to grow up. As a former child star who gained recognition for his role as Zeke Beakerman on Disney's Wizards of Waverly Place, 35-year-old actor Dan Benson experienced this firsthand. Now in 2023, he's still in the entertainment industry, albeit in a much different capacity: as an OnlyFans creator. Benson has been open about his career shift on TikTok, posting about it a handful of times over the last few months. But on Jan. 7, he used the popular app to explain the backstory of how he "tripped and fell" into becoming an OnlyFans creator.
"When I was on the show Wizards of Waverly Place, I would get messages from people all of the time — some of those being women that I found incredibly attractive," he said in a TikTok video. "Turns out, messaging those women, who turned out not to be who they said they were, was not the best idea because I would send nude photos to them, and they would take those nude photos, and then post them onto online websites." After learning that his nude photos and videos were all over the web, Benson said he spent years trying to remove them from the internet. "That was a pretty traumatic experience," he added.
This whole ordeal, he explained, had a "very big negative impact on [his] life," including almost losing his job because of those leaked nude photos — something that happens all too often. Benson eventually retired from acting.
Ultimately, though, Benson devised a clever way to reclaim his agency. "Eventually, I decided to stop fighting against it, and instead go the other direction and completely lean into it, and build out an [OnlyFans] page" last year, he said. Instead of allowing other people to profit at the expense of his stolen privacy, he explained, he would take control of his own narrative and sell adult content himself. "What are you gonna do? Sometimes you just have to roll with the punches."
No one should have their private photos leaked, but it's safe to say the internet is proud of Benson for making the best of a bad situation. In his video, he added, "I've been having a tremendous amount of fun, I've met a lot of great people in the adult entertainment industry, and it's changed my life for the better."