Demi Lovato's album poster was banned in the UK for being blasphemous
All it took was four people complaining, apparently.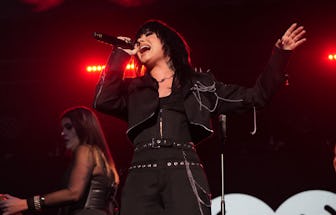 Kevin Mazur/Getty Images Entertainment/Getty Images
Since their days on the Disney Channel, 30-year-old singer, songwriter, and actor Demi Lovato has always been the kind of artist who's comfortable pushing boundaries and embracing their dark side. But apparently, not everyone is on board. Incendiary posters promoting Lovato's latest studio album, Holy Fvck (2022), were banned in the United Kingdom for being potentially offensive to Christians — and honestly, from a rock 'n' roll standpoint, that's actually pretty badass.
Great Britain's Advertising Standards Authority (ASA) conducted an entire investigation into the matter after four — yes, four — people filed complaints about the poster, which had been displayed across London. The findings: Lovato's promotional poster was just blasphemous enough to be sacrilegious. "We considered that the image of Ms. Lovato bound up in a bondage-style outfit whilst lying on a mattress shaped like a crucifix, in a position with her legs bound to one side which was reminiscent of Christ on the cross, together with the reference to 'holy fvck', which in that context was likely to be viewed as linking sexuality to the sacred symbol of the crucifix and the crucifixion, was likely to cause serious offence to Christians," the ASA said in a Jan. 11 statement about its decision, as reported by CNN. Apparently, non-broadcast ads in the UK must abide by an ASA code that forbids "anything that is likely to cause serious or widespread offence." I don't know about you, but making stodgy Jesus freaks squirm in their seats over a little album art is a win in my book.
Lovato themself knew the album's imagery and content would undoubtedly ruffle a few feathers. "I remember being the one asking questions, like, 'Am I gonna be able to say this? And what do I say instead?'" they said in a July 2022 interview with SiriusXM. "And it's just like, look, it's f*cking rock 'n' roll. They'll bleep you if they need to and, like, if they don't, even better."
Let's be real: At its heart, rock 'n' roll has always been about questioning, subverting, and outright shattering cultural norms — and it's long played a huge role in influencing political commentary. So while Lovato's provocative posters may have been banned for being too offensive to Christians, they're perfectly in line with the roots of the genre. As Roger Daltrey of The Who once said, "Rock 'n' roll seems to have changed society much more than any politician, I think it really has."