Paramore's Hayley Williams called out NOFX singer Fat Mike for being a total creep (allegedly)
Turns out the mid-2000s punk scene wasn't as perfect as all the current nostalgia might have you believe.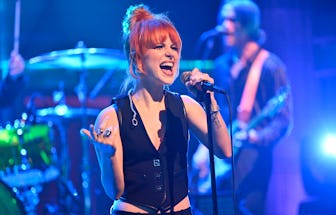 NBC/NBCUniversal/Getty Images
While the music industry may seem like all glitz and glamour from the outside, it's easy to see how racism, sexism, and queerphobia can affect even the most influential artists — including Hayley Williams of Paramore, the iconic pop-punk princess whose vocal prowess continues to reign supreme. In a recent interview with Billboard, Williams revealed her frustration with the highly problematic mid-2000 punk scene and shared one of her own experiences as an example. Williams called out NOFX singer Fat Mike for (allegedly) being a total creep when she was only 19 years old.
"What I felt was a mixture of vindication and also a lot of anger," she told Billboard, referring to an impromptu speech she made at the 2022 When We Were Young festival in Las Vegas. During Paramore's set, she told the highly nostalgic crowd that the mid-2000s punk scene could be a harrowing place "if you were different, if you were a young woman, if you were a person of color, if you were queer." She continued, "That's really fucked up if you think about it because this was supposed to be the safe place, wasn't it?" In that moment, even Williams didn't realize how much rage she carried.
"I was really surprised that I had so much anger well up in me because I was like, 'Wait a minute. They're treating us like a prize now,' but like, Fat Mike [of NOFX] used to tell people that I gave good rim jobs onstage when I was 19 years old," she told BillBoard. Fat Mike's team has not responded to Mic's request for comment at the time of publishing.
After reading that, only one word comes to mind: Ew. While Fat Mike's alleged comment about "rim jobs" toward Williams is gross enough on the surface, it's even more revolting when you really think about it: If Williams was really only 19 at the time, that would make Fat Mike 40 years old — and if the idea of a 40-year-old man making sexual comments about a 19-year-old girl doesn't send shivers down your spine, I don't know what will.
"I do not think that that's punk. I don't think that's the essence of punk," Williams told Billboard, highlighting how good it felt to have power over her own voice and narrative at the October festival. "It felt like justification to be able to have the mic and to be one of the last bands that played," she added. "I feel strongly that without young women, people of color and also the queer community, I just think we would still be where we were then."