Marilyn Manson is being sued for allegedly grooming and sexually assaulting a teenager
The news comes days after Manson settled a separate sexual assault lawsuit out of court.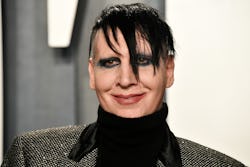 Frazer Harrison/Getty Images Entertainment/Getty Images
Warning: The references to sexual abuse detailed in this article could be triggering for people who have been victims of abuse.
At this point, it's no secret the music industry has been infested with swarms of creepy, predatory, and dangerous men for decades. One particular entertainer, Marilyn Manson, has been at the center of abuse allegations for years — and this week, there's more. Manson is now getting sued for allegedly sexually assaulting a minor.
The newest lawsuit, filed anonymously by "Jane Doe," lists the 54-year-old musician (whose legal name is Brian Warner) as a defendant, along with his former labels Interscope and Nothing Records. As reported by Rolling Stone, the suit alleges several instances of "sexual battery and intentional infliction of emotional distress" against Manson, as well as "negligence and intentional infliction of emotional distress" against his former labels. Manson has denied previous allegations of sexual abuse and misconduct.
In the suit, Doe, now an adult, claims she first met Manson when she was 16 years old, after a Dallas concert in 1995. She waited outside his tour bus, and when he arrived he allegedly invited her "and one of the other younger girls" inside, per the suit. The suit claims that Manson, who was around 26 years old at the time, asked the girls their age, school grade, and recorded their phone numbers and home addresses.
"While on the tour bus, Defendant Warner performed various acts of criminal sexual conduct upon Plaintiff, who was a virgin at the time, including but not limited to forced copulation and vaginal penetration," the suit says, also alleging that one of the band members watched the assault happen. "Plaintiff was in pain, scared, upset, humiliated and confused. After he was done, Defendant Warner laughed at her. … Then Defendant Warner demanded Plaintiff to 'get the fuck off of my bus' and threatened Plaintiff that, if she told anyone, he would kill her and her family."
According to the suit, Doe allegedly continued to experience years of grooming and abuse at Manson's hands, with his band members being complicit, acting negligently, or even outright contributing to her abuse themselves. The suit also alleges Manson's labels knew exactly what was happening and neglected to protect Doe (and other "fans, including minors and women") from abuse. In a statement provided to Mic via email, Howard King, an attorney for Manson, referred to the claims as "vicious lies" that "will not survive legal examination."
"Brian Warner does not know this individual and has no recollection of ever having met her 28 years ago," King said. "He certainly was never intimate with her. She has been shopping her fabricated tale to tabloids and on podcasts for more than two years. But even the most minimal amount of scrutiny reveals the obvious discrepancies in her ever-shifting stories as well as her extensive collusion with other false accusers."
Mic reached out to Universal Music Group (the parent company of Interscope and Nothing Records) for comment.
This lawsuit seems to fall directly in line with several other cases against the musician: Over the past two years alone, over a dozen women have come forward with allegations of abuse against Manson, including Evan Rachel Wood, Esmé Bianco, Ashley Morgan Smithline, Ashley Walters, and more. Each woman's allegations have described disturbingly similar patterns of behavior, where Manson allegedly groomed, then sexually and physically abused them for years at a time. Manson and his team deny all allegations filed against him; he sued Wood for fraud, and just last week, Bianco settled her sexual-assault case against Manson out of court.
"This lawsuit goes beyond the named predator and targets the record labels that packaged and profited from their artist's criminal behavior, and it is an indictment of the music industry for maintaining a culture that celebrates, protects, and enables sexual predators," Karen Barth Menzies of KBM Law, an attorney representing Doe, told Rolling Stone. "The new laws to expose the perils [and] industry practices that profit from and promote sexual violence against the vulnerable, and the executives in the industry who profit from it and turn a blind eye. It's time for cleansing and accountability."
If you or someone you know has been sexually assaulted, you can call the National Sexual Assault Telephone Hotline at 1-800-656-HOPE (4673) or visit hotline.rainn.org.
This article has been updated to include a statement from Manson's attorney.