The real reason Shakira's "BZRP Music Session" is hitting so hard
The record-smashing reclamation banger has hidden nuances tucked into its Spanish lyrics.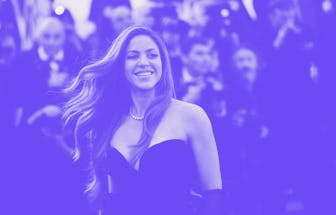 LOIC VENANCE/AFP/Getty Images
In Spanish, "calladita se ve más bonita," is a popular saying used to silence women — whether it's because they're being indiscreet, loud, or simply taking up space. The translation: "When you're quiet, you look prettier." Last week, when Shakira dropped her new single, "BZRP Music Session, Vol. 53" dragging her ex, Gerard Piqué — her partner of 11 years and father to her two children, with whom she split in 2022 following allegations of infidelity on his part — she doused that misogynistic world in gas and lit it on fire.
The Colombian singer's record-breaking song, which set the internet aflame and racked up 14.4 million Spotify streams and 63 million YouTube views in 24 hours, isn't just a heartbreak anthem. It's a declaration of self-love that breaks with societal norms in Latinx culture, by virtue of Shakira's refusal to shield anyone from the world as she sees it. The fact that she released it solely in Spanish — after a long career recording her biggest hits in both Spanish and English — is an act of self-confidence, refusal to conform to industry challenges, and another indicator of the reach of Latinx artists and fans.
Shakira's lyrics don't pull any punches, either. "BZRP Music Session" is absent vague euphemisms or metaphorical stand-ins for the people who hurt her. Shakira comes as close as possible to naming names without actually doing so, making it abundantly clear she's referencing Piqué and his girlfriend, 23-year-old girlfriend Clara Chía (who was 22 when they reportedly began dating). Among the most biting lines:
"Me dejaste de vecina a la suegra, con la prensa en la puerta y la deuda en Hacienda" ("You left me with my mother-in-law as a neighbor, with the press at the door and in debt with the government") and, "Yo valgo por dos de 22 … Cambiaste un Rolex por un Casio" ("I'm worth two of 22 … You changed a Rolex for a Casio").
Shakira owns her pain caused by Piqué, self-flagellates when she sings about how she should have left him long ago, and reclaims her power all within a single song.
This is a giant departure from the submissive culture women in Latinx and Hispanic communities are so often subjected to; they're taught to put their careers on hold and accept abuse, infidelity, addiction, and general bad behavior from their partners because, "El hombre es hombre." ("The man is a man.") The needs of women take a backseat to those of their partners, and in turn, the engine of machismo keeps running.
In pushing her away, Piqué (unintentionally, one can assume) gave Shakira the space to remember who she was. There are moments during the "BZRP Music Session" music video in which the Shakira re-embodies the person she was — not in a way that comes off as youth-obsessed, but rather as the person who trusts herself. The song seems to come from a place of surrender — free of worries of what others might think. Shakira said as much in an Instagram post (written in Spanish) following the news that her single had broken Spotify streaming records.
"What for me was a catharsis and a way to let go, I never thought that I would go straight to number one in the world at 45 years old and in Spanish," she wrote in her native language. Without mincing words, Shakira referenced the fact that she wrote "BZRP Music Session" to heal from a difficult, public breakup and alluded to doing so while fighting against ageism in entertainment and still racking up career milestones — without having to do so in English.
It's that last part that really gets me. In that Instagram post, Shakira described the song as a "desahogo." Google translates the word to "relief," but a closer look at the nuances of the Spanish word reveals a far more powerful meaning. In Spanish, "ahogo" means to drown and "des" is to undo — so, the more accurate translation is to "undrown" yourself. I interpret it as a "return to life."
Since "BZRP Music Session" was released, I've seen so many similarly weak or inaccurate translations. Each Spanish word contains layers of complex emotions, for which there's no true English translation. It only further exemplifies how Shakira's choice to be who she is, including delivering such a powerful message in the language she commands, is yet another subtle act of defiance. She doesn't care if others understand her, because she's doing this for herself.
Shakira isn't the first Spanish-speaking woman to monetize her broken heart and challenge deeply-held stigmas in Hispanic and Latinx communities. Mexican singer (and Shakira supporter) Paquita del Barrio, whose participation in the male-dominated ranchera genre was and continues to be ground-breaking, paved the way with infamous lyrics such as, "Are you hearing me you useless [person]? Hyena from hell, I hate and despise you."
It may be messy to speak (or rather, sing) out the way these women have, but sometimes messy is worth it. As Shakira sings in "BZRP Music Session," "Te creíste que me heriste y me volviste más dura. Las mujeres ya no lloran, las mujeres facturan." "You thought you hurt me and you made me tougher. Women don't cry anymore, they cash in."