Tom Hanks totally missed the mark on the nepo baby debate
Apparently, Hollywood dynasties are just like family plumbing businesses.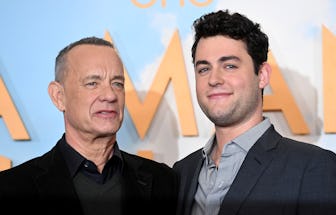 Dave J Hogan/Getty Images Entertainment/Getty Images
Hollywood's ongoing nepo baby business is still kicking into the new year, and celebrities are continuing to pop out of the woodwork to reveal their surprisingly bad takes. This time, America's favorite dad, Tom Hanks, put his neck on the chopping block to weigh in on the controversial topic, and his perspective is… pretty disappointing.
"Look, this is a family business," Hanks said in a Jan. 6 video interview with The Sun while discussing his new film, A Man Called Otto — and the casting of his youngest son, Truman, as the younger version of his own character. "This is what we've been doing forever. It's what all of our kids grew up in," Hanks said, noting that all of his offspring are in the business of "storytelling" in some way. (For the uninitiated, Hanks has four children: Colin and Elizabeth by Hanks' first wife, the late actress Samantha Lewes, and Chet and Truman by his current wife, actress Rita Wilson.) "If we were a plumbing supply business or if we ran the florist shop down the street, the whole family would be putting in time at some point, even if it was just inventory at the end of the year." Oh, Tom. Tom, Tom, Tommy, Tom, Tom. Are you seriously comparing your multimillion-dollar Hollywood empire to a humble family florist shop? Please say, "Sike!" right now.
Although he's the distant cousin of beloved children's television show host Fred Rogers (whom he played in the 2018 film A Beautiful Day in the Neighborhood), Hanks is by no means an "OG Nepo Baby" by today's standards. After moving to New York to take a bite out of the Big Apple, he made his film debut in the low-budget 1980 horror film He Knows You're Alone. Hanks built his acting career from the ground up, giving America cult classics like Big (1988), Sleepless in Seattle (1993), and Toy Story (1995). With a background like that, you'd think he'd be more willing to acknowledge how all his hard work has helped give his children a leg-up in the entertainment industry — even Chet — aka "Chet Haze" — whose career path hasn't been quite as sparkling as the rest of the family's.
Hanks seems to have a disappointingly tone-deaf perspective on the conversation, and insisted that talent — not money or privilege — was the most important factor in success. "The thing that doesn't change no matter what happens, no matter what your last name is, is whether it works or not," he said. "That's the issue anytime any of us go off and try to tell a fresh story or create something that has a beginning and a middle and an end. Doesn't matter what our last names are. We have to do the work in order to make that a true and authentic experience for the audience, and that's a much bigger task than worrying about whether anybody's going to try to scathe us or not."
Actually, Tom, a lot of people may beg to differ and say that last names do matter — especially in the entertainment industry, where recognizability is key. That doesn't negate the fact that many so-called nepo babies are, in fact, very talented. Many have proven that to be true. But celebrities seem to completely miss that point; a growing list of them have shown themselves to be quite touchy about the subject and opt to melt down over the notion of their own star-powered privilege instead of just, you know, acknowledging it.