A proposed anti-trans law signals a dark future for trans rights
The new bill introduced by right-wing lawmakers could effectively force some adults to detransition.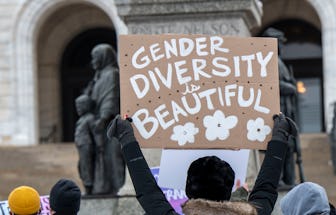 UCG/Universal Images Group/Getty Images
All over the nation, politicians in Republican-led states have been proposing and passing scores of anti-trans legislation. In states like Texas, Arkansas, Tennessee, Arizona, Alabama, and Florida, Republican lawmakers have pushed transphobic legislation under the absurd guise of having young people's best interest at heart. But it's pretty easy to see how this "protect the children" rallying cry is absolute bullshit — especially as states like Oklahoma are quickly closing in on restricting gender-affirming care for adults, too.
On Jan. 4, Oklahoma State Senator David Bullard filed OK SB129, also known as the Millstone Act of 2023. If passed, this legislation would prevent anyone under the age of 26 (so, inclusive of full-grown adults) from accessing gender-affirming care. As one of the country's most far-reaching anti-trans bills proposed so far, it would also criminalize the act of health care providers recommending or administering gender-affirming care, with the added threat of medical license revocation. Additionally, the bill would prevent public funds from being used for gender-affirming care, and — as trans activist Erin Reed highlighted in a Jan. 5 newsletter — the bill's language would force adults under the age of 26 who are already receiving such care to "medically detransition."
Amid the turmoil of this newly proposed law, it's impossible to ignore how far-right lawmakers have systematically targeted trans people with legislation designed to ostracize and criminalize them. "Trans people deserve best practice medical care," Freedom Oklahoma, an LGBTQ+ and Two-Spirit advocacy group, tweeted on Jan. 5. "These bills are cruel, political tactics meant to scare doctors into limiting best practice care, and push trans people out of Oklahoma."
According to an October 2022 report from The Washington Post, the number of anti-trans bills introduced in state houses over the course of four years has increased dramatically; frankly, it's terrifying. According to the report, which analyzed ACLU data, 19 anti-trans bills were proposed in 2018; in 2022, that number had risen to 155. In Texas, right-wing lawmakers have already filed a slew of anti-trans bills for the 2023 legislative session, and many states are following suit. In many cases, these types of bills wouldn't just prohibit gender-affirming health care like surgery, but also puberty blockers, hormones, and even some types of therapy.
While the circumstances are indeed dire, LGBTQ+ advocates are still fighting for their rights. "We belong here. We always have," wrote Freedom Oklahoma in their Jan. 5 tweet. "And we'll fight for our collective safety and liberation."