Gender-inclusive bathroom signs are linked to positive attitudes about trans people
A little sign can go a long way.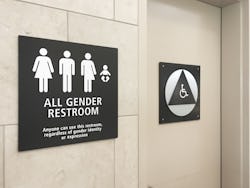 David Madison/Photodisc/Getty Images
When it comes to gender inclusivity in the United States, a little can go a long way. In fact, according to a new study, something as small as seeing gender-inclusive signs in public spaces can help people develop more positive outlooks on trans and nonbinary people — particularly among kids.
The study, conducted at Washington State University's Murrow College of Communication and published in the International Journal of Communication, tested a pool of 319 kids, ages 12 to 17, across the U.S. to observe how gendered and non-gendered signs on public facilities affected their perceptions of trans and non-binary people. Researchers found that, in a virtual school setting, kids exposed to all-gender signs were more likely to view gender beyond a male-female binary, and thus were more accepting of individuals who identified as trans or non-binary.
"In essence, the study showed that gender-segregation in physical spaces primes adolescents to think of gender in a binary manner, while gender-inclusive spaces tend to lead them to have a more nuanced understanding," Traci Gillig, lead researcher on the study and assistant professor at Washington State University's Murrow College of Communication, said in a news release.
The virtual experience for the first test group closely resembled what kids usually see in a typical school setting: bathrooms and locker rooms with the traditional "men" and "women" labels and stick figures displayed on the front. For the second test group, those binary markers were replaced with "all-gender" signage.
The results? More accepting kids and more inclusive spaces. In subsequent online tests, kids in the second test group tended to be more understanding and accepting of genders beyond the traditional binary — and even reported feeling more accepting of trans and non-binary people in their everyday lives.
According to the study, "all-gender facilities depicted using non-gendered symbols, such as a toilet, and the label 'all-gender' direct all individuals into one inclusive space and do not communicate a binary conceptualization of gender." So, when it comes to creating a safer environment for LGBTQ+ kids — and subsequently, adults — a little gender inclusivity can definitely go a long way.