Sam Smith recalled being spat at on the street after coming out as nonbinary
"If that's happening to me and I'm famous, I'm a pop star, can you imagine what other kids, like queer kids are feeling?"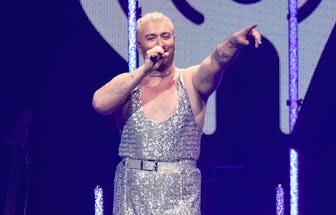 Shutterstock
It's often to think that celebrities have it easier than the rest of us — and in many ways, they definitely do. But living life in the public eye also comes with its own unique set of challenges. Singer, songwriter, and award-winning recording artist Sam Smith seems to understand this all too well. In a recent interview with Zane Lowe on Apple Music 1, Smith talked about how coming out as nonbinary "felt like coming home," but also revealed how it brought on a barrage of unwarranted backlash.
"I wish I knew what the words were when I was in school, because I would've identified as that in school," Smith told Lowe of changing their pronouns, as reported by People. "Because it is who I am and it's who I've always been." While they said they've received endless support from family and other loved ones during their journey toward discovering their identity, the experiences they've faced in public while home in the U.K. have been nothing short of appalling.
"The amount of hate and shittyness that came my way was just exhausting," Smith said. "Someone spat at me in the street. It's crazy. If that's happening to me and I'm famous, I'm a pop star, can you imagine what other kids, like queer kids are feeling?"
Although the U.K. has certainly come a long way, the nation has a long history of discrimination against the LGBTQ+ community, per the British Library, with many of those queerphobic attitudes still lingering to this day. But it doesn't end there: Because of the U.K.'s historically anti-LGBTQ+ stance within its churches and governing bodies, the nation's 16th century imperialist expansion also left a long-standing legacy of queerphobia in many of the countries it colonized, per CNN. So it's not altogether surprising that queerphobia may still be deeply ingrained within the country's culture.
"It's just so sad that we're in 2023 and it's still happening," Smith told Lowe. "What people don't realize with trans non-binary people in the U.K. is it's happening in the street. I'm being abused in the street verbally more than I ever have. So that was the hardest part, I think, was being at home in the UK and having people shouting at me in the street."
Still, Smith seems to feels an overwhelming sense of joy with where their journey has led them, both personally and professionally. "It feels like emotional, sexual and spiritual liberation," they said in an announcement about their upcoming album, Gloria, which is set to release on Jan. 27. "It was beautiful, with this album, to sing freely again. Oddly, it feels like my first-ever record. And it feels like a coming of age."