44 brilliant things you've never heard of with tons of glowing amazon reviews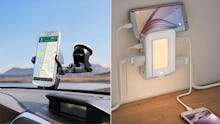 Amazon
You may know Amazon as the internet's favorite one-stop shop for everything from toiletries to tech but the e-tailer is also loaded with other brilliant things you've probably never heard of. And I'm not just talking about useless novelty kitchen gadgets, these genius hidden gems (which are now starting to rack up thousands of glowing reviews) are actually improving people's lives, according to reviewers.
Whether you're looking for ways to be a little more conscious, productive, eco-friendly, or organized, having the right tools at your disposal can help you tenfold — and Amazon is full of weird but genius gadgets that can help. If you're looking to read more books this year, limit your use of wasteful materials, or eat more home-cooked meals, these clever items help to set you up for success. The fact that they've gained so much recognition and so many high ratings from past buyers is a testament to their effectiveness — and their ability to actually make a difference in your daily routine. "It works exactly as well as it says, and has changed my life," wrote one reviewer (about an automatic egg cooker, of all things), and there are thousands more where that came from.
Whether they're designed to improve your morning routine or help out the environment, these are the 44 most brilliant things you've never heard of on Amazon.