49 cheap, super helpful products you'll wish you knew about sooner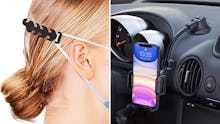 Amazon
I've got 99 problems… and Amazon can fix nearly all of them. The online marketplace is home to gadgets and tools that solve those common, everyday annoyances — and the best part? They usually come at a very reasonable price. I did a little shopping and found 49 cheap, super helpful products you'll wish you knew about sooner. From storage solutions to beauty hacks, this list is jam packed with budget-friendly answers to your common dilemmas.
Read on to find solutions to daily frustrations like uncomfortable facial masks or a cluttered desk in your WFH space. These products come highly reviewed and rated by thousands of customers, so all you have to do is hit "add to cart" with confidence. Among the amazing finds on this list are odor-free dish cloths made of bamboo, oven rack protectors that keep you from burning yourself, and a super-fast wireless charger that costs less than $15. These products all have one thing in common: they make your life easier. And who wouldn't want that?
Don't kick yourself for just now discovering these products; it happens to the best of us. Whether you could really use clever cleaning supplies in your life, workout equipment that fits a tight space, or eco-friendly alternatives to products you spend way too much on, you'll find them on this list — and your wallet will thank me.