50 hidden gems on Amazon people call their most amazing finds of the year
Keep your iced coffee colder, your fridge cleaner, and more with these clever finds.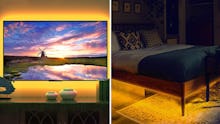 We may receive a portion of sales if you purchase a product through a link in this article.
How many things have you bought so far this year? Now how many of those things would you say have been truly life-changing? The first number is probably significantly larger than the second; some people might even say that nothing they've purchased this year has really made their lives all that much easier, more enjoyable, or more efficient — yet. Good thing Amazon reviewers are quick to point out the products that they've deemed their most brilliant finds of the year.
Believe it or not, these hidden gems on Amazon aren't even all that expensive. In fact, almost all of them are less than $35. And though they might seem like minor purchases, they still manage to improve your day-to-day experience in a big way. Your iced coffee stays colder and your fridge stays cleaner. Tasks like washing the dog, snaking the drain, and scrubbing the floor take half the time. Some of these things keep you safer on the road, more productive while working, cooler while on the move, or more comfortable while sleeping — and then there's this pair of glasses, which lets you watch TV while lying flat on your back.
According to past buyers, these are the most life-changing products they've purchased in the past year. So they might make a big difference in your home, too.