A state-by-state list of racist Confederate monuments that have been removed so far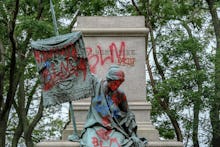 Alex Wroblewski/Getty Images News/Getty Images
In recent years, the United States has seen increased pressure to remove Confederate monuments from public grounds. The demands to do so are driven by a number of factors, including the rising visibility of white supremacists (as seen with the 2017 Unite the Right rally in Charlottesville, Virginia, or the insurrection at the Capitol in January) and nationwide uprisings against policing, driven by the murders of Black people like George Floyd.
Previously, Mic has imagined what it would look like if all the Confederate monuments in the U.S. were replaced with ones celebrating Black heroes. It is great to picture these statues — literal symbols of white supremacy — being replaced by something better. But could that ever become a reality in the U.S.? According to a 2020 study by the Southern Poverty Law Center, Confederate monuments aren't falling all that fast. Although the study found that 270 Confederate symbols have been removed over the past few years, over 1,600 remain. Some states, like West Virginia, haven't even removed any.
Still, Confederate statues are falling. Sometimes because the city itself decides to do something, but often because protesters outright destroy them or vandalize them enough that the city has no choice but to put the statues elsewhere. Let's take a look at some Confederate monuments that have come down in the past few years.