After 9/11, the U.S. leaned into security theater. Here's how that's playing out 20 years later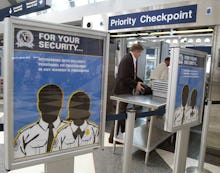 A traveler passes through a priority checkpoint at O'Hare International Airport in Chicago on Sept. 10, 2002. [Photo by Tim Boyle/Getty Images]
On Sept. 11, 2001, the United States experienced the deadliest terrorist attacks in its history, leaving nearly 3,000 dead. In the immediate aftermath, then-President George W. Bush assured the nation that the attacks "cannot touch the foundation of America," adding, "This is a day when all Americans from every walk of life unite in our resolve for justice and freedom."
What Bush left unsaid in that initial address was what, exactly, the U.S. would unite against. As Bush began his War on Terror abroad that has resulted in 900,000 deaths, per one recent estimate, communities within the U.S. were targeted, too. In the week after 9/11, three people were killed due to Islamophobia: Balbir Singh Sodhi, a Sikh man who was mistaken as Muslim, in Arizona; and Waqar Hasan and Vasudev Patel in Texas, whose shooter said he killed them to "avenge" the U.S.
Overall, Islamophobia flourished post-9/11, with the number of reported hate crimes jumping from 28 in 2000 to 481 in 2001. However, focusing on Islamophobia at an interpersonal level obscures how the federal government has built on centuries of white supremacy and anti-Black Islamophobia to target Muslim communities through every avenue. Let's take a look at some of the post-9/11 policies that have drastically reshaped the U.S over the last 20 years.