How to help Californians amid the devastating historic storms
Atmospheric rivers continue to unleash relentless, destructive rainfall across the state.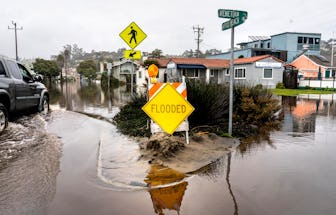 The Washington Post/The Washington Post/Getty Images
For the past two weeks, atmospheric rivers have caused deadly, historic storms across the entire state of California, and the brutal weather is showing no signs of stopping. California residents continue to endure widespread flash flooding, pummeling winds, and heavy rainfall while state's infrastructure is struggling to hold up under the harsh conditions. President Joe Biden declared a state of emergency on Jan. 9, and there have been reports of widespread power outages, destroyed roadways, and flooded evacuation routes.
California typically experiences dry summers and wet winters that make the landscape perfect for tourism and a strong farm-based economy. But these characteristic weather patterns also make the California climate dangerously susceptible to "rapid shifts between drought and flood," as climate scientists noted in a report published in the journal Nature Climate Change — especially as the intensifying effects of climate change take hold in the state. And while theoretically, California rain is a welcome respite from the state's decades-long megadrought fueled by man-made climate change, the reality is the state simply can't handle this much water at once (in part, ironically, because the drought dried out the soil to the point where it can't absorb the excess rain, per Vox).
As the whiplash rainfall persists and conditions continue to deteriorate, it's becoming increasingly clear that residents need help amid the turmoil — and long after the storms clear. Here are a few ways to help Californians endure and recover from these devastating storms.
Led by California's Chief Service Officer, Josh Fryday, California Volunteers is a government organization dedicated to making an impact through civic engagement and mobilization. Right now, California Volunteers is working hard to distribute much-needed resources and aid. They keep their site updated with various volunteer opportunities.
Focused on improving the health and lives of people affected by poverty, natural disasters, and more, Direct Relief has been working around the clock to ensure people have access to the resources and health care they need amid the chaotic California storms.
California's usually sunny beaches have been battered with all kinds of debris — plastic, tires, and a whole lot of trash. Heal the Ocean, which is dedicated to keeping beaches and oceans trash-free, is recruiting volunteers to clean up the mess caused by the inclement weather. If you're not local or you can't make it, you can also donate to support the cause.
The Volunteer Center of Santa Cruz is dedicated to helping residents clean up their communities after being hit by the recent barrage of storms, as well as helping them prepare for the incoming inclement weather. They're currently looking for volunteers at emergency shelters, in community cleanup efforts, and more.