Day 1 of Trump's second impeachment trial was a cold reminder of what Trump wrought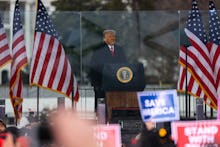 [Tayfun Coskun/Anadolu Agency via Getty Images]
For a legitimately historic event, the second impeachment trial of Donald Trump has felt a little anticlimactic. That we got here at all was overshadowed by the condensed timeline: From Jan. 6, the day of the Capitol riot, to Jan. 13, the day the House voted to impeach Trump, just seven days had elapsed for Americans to both understand the magnitude and tragedy of the insurrection attempt and parse the political ramifications of whether the president needed to be immediately removed from office. In just a week we were asked to sort through the literal wreckage on Capitol Hill; the anxiety, anger, and trauma that lingered for voters and politicians alike; and the constitutionality of impeaching a president in a divided government whose term would likely end before any conviction.
After all we've endured, an arcane legal procedure in the House and the Senate feels kind of like a flop. And that's why the Democratic impeachment managers spent much of Tuesday, the first day of Trump's second impeachment trial, reminding their Senate colleagues as well as the general public that yes, this really happened, and yes, it was that bad. And given that it's highly unlikely they'll win a conviction, the day's goal was really about something else: cementing the historical record and establishing a precedent. If you incite a riot against the government, you will be impeached.
Rep. Jamie Raskin (D-Md.), the lead impeachment manager, gave an emotional speech toward the end of the Democrats' opening presentation. He spoke of how his daughter had visited him at the Capitol on Jan. 6, and that after she'd spent the day hiding under a table to avoid violent insurrectionists, she told her dad she never wanted to come back to the hallowed halls of Congress. "Of all the terrible, brutal things I saw and heard on the day and since then, that one hit me the hardest," Raskin said.
Of course, shaky-voiced pleas to a higher morality did little during Trump's presidency. As David A. Graham noted in The Atlantic, writing about Raskin's speech, "One essential theme of the Trump presidency was that practically nothing is sacred," and so appealing to one's supposed sense of higher devotion meant very little in dealing with the 45th president. And that's why it was not what Raskin said that will endure, but instead his reminder of what everyone else said.
As a reminder, Trump was impeached for inciting an insurrection against the U.S. government. The charges stem from the fact that right before a bunch of his supporters stormed the Capitol and threatened to kill Vice President Mike Pence as well as a handful of prominent Democrats, Trump yelled a bunch of false claims of election fraud into a microphone and then encouraged the gathered crowd to "fight like hell," insisting, "You'll never take back our country with weakness."
His legal team's main defense has a tinge of First Amendment righteousness, while they argue that he didn't actually say anything problematic at all, and also that he didn't mean the problematic things he did say. And in the end, farcical though those defenses may be — even some of Trump's biggest defenders thought his legal team did a laughable job — they'll likely be successful because of sheer math.
So in the absence of a realistic pursuit of victory, what we're left with is the pursuit of precedent-setting. Democrats were adamant that letting Trump go off into the night without facing any consequences, just because his term was coming to a close, would be dangerous. They insisted on the constitutionality of holding an impeachment trial for a former president, to make it clear that no one is above the law. They wanted to have the chance to bar a malicious man from holding future office. And that brings us back to Raskin.
Raskin presented a video timeline of how we got to Trump's second impeachment that weaved together clips of the former president speaking on Jan. 6 with footage from among the riotous crowd, first outside the Capitol, then as they move indoors and breach the halls of Congress. A man tells the crowd, "We're going to the Capitol, where our problems are"; a gallows is erected outside the Capitol; supporters breach the building chanting "stop the steal!"; chaos and panic sets in within the chambers as lawmakers first take shelter, then evacuate.
Showing the video was a clear message: America might have moved onto a new president, but we still have to deal with the old one. Look what he wrought. Look at the damage he caused.
The main debate Tuesday was technically about the constitutionality of the trial, given that Trump is no longer in office. In the end, only one Republican — Louisiana Sen. Bill Cassidy — was convinced by the impeachment managers' presentation to flip his stance and join Democrats in affirming constitutionality. In total, six Republicans voted with all Democrats to move things along, and now each side will have 16 hours to present their respective cases. Per The New York Times, oral arguments could last the rest of the week, if not spill over into the next.
But the point Tuesday was about much more than procedure, and possibly even about more than conviction. It was about reminding everyone that yes, this happened, it was just as bad as it seemed — and we know exactly who is responsible.