Instagram crashing when uploading photos or videos? Don't panic! Here's what to do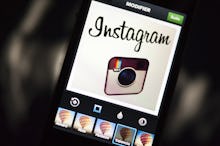 Is your Instagram crashing, not working or not opening? When you upload photos or videos, does it just crash the app? You're not alone. Starting Tuesday, Instagram stories were failing to upload and users began reporting issues. The bug acts like this: When you tap the upload button, the app crashes. Repeat the process and the app keeps crashing. 
Down Detector notes that some issues were resolved on Wednesday, but as of Thursday, people are still reporting issues.
Mic reached out to Instagram for comment and some advice, and we'll update if we hear back. In the meantime, though, Instagram has a fix — but it's not pretty.
First, try clearing memory on your phone by restarting. You might have a lot of apps running in the background. Turn your phone off and on again.
If that doesn't work, reinstall the app itself. On iOS, tap and hold the app icon, hit the X button to wipe it off your phone, then go into App Store to redownload Instagram. You'll need to enter your username and password again. 
On Android, go into Applications, then Manage Applications, then Instagram, then tap "uninstall." Redownload the app from the Google Play store.
If that doesn't work, you're out of luck for now. Just wait — the issue will probably resolve itself soon. But in the meantime, report the bug and let Instagram know it's an issue.