"I don't yet trust him": 5 Muslims reflect on Biden's record of surveilling their communities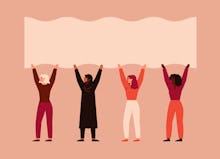 Shutterstock
With the inauguration of President Biden, many in the United States felt they could breathe for the first time in four years. Even before he was officially inaugurated, Biden's election win symbolized a pending promise to remove people from under the boot of fascism that had come to define former President Donald Trump's administration, particularly towards its end when his supporters stormed Capitol Hill. Yet, even with Trump out of the White House, not everybody is breathing quite so freely.
Throughout his campaign, Biden tried appealing to Muslims as a voting bloc by positioning himself as the solution to the virulent Islamophobia demonstrated by the Trump administration. His campaign launched platforms for both Muslim and Arab American communities, where Biden promised to end Trump's infamous travel ban on Muslim-majority countries, as well as the Targeted Violence and Terrorism Prevention program. TVTP, an "evolution" of the Obama-era Countering Violent Extremism program — which Vice President Kamala Harris publicly expressed support for during her presidential campaign — draws from CVE's debunked framework and planned to distribute $10 million in grants that, given CVE's history, would likely be used to surveil Muslim youth.
Although Muslims overwhelmingly voted for Biden, his campaign did not exist without criticism. Some were concerned by Biden's conflation of Muslim with Arab, as demonstrated by his promise to end TVTP being included in his platform for Arab communities broadly. Given that CVE's targets in two of its three pilot cities — Minneapolis and Boston — were Somali youth, Biden's positioning of TVTP as an issue for Arabs generally ignored how anti-Blackness shaped CVE and TVTP. As many today celebrate the end of a Trump era, many Muslims are balancing a complicated reality: While most are relieved that Trump is no longer in power, a Biden administration still does not guarantee safety.
The growth of white supremacist movements under Trump has led to reheated conversations about national security. As some look to Biden's administration to pass domestic terrorism laws to address white supremacy, many Muslims are worried these laws will only further empower the surveillance state to target their communities. Pushback around domestic terrorism laws' ineffectiveness in addressing white supremacy are based in history; once again, you don't need to look further than CVE. And even without those concerns, Muslims are also pointing out that Biden's own political record isn't so clean.
While Biden promised to end Trump programs targeting Muslims, he has supported policies that aren't much different. For example, Biden not only voted for the 2001 Patriot Act, but he often took credit for writing it. This infamous bill served to expand government surveillance post-9/11 and led to the increased surveillance of Muslim communities nationwide.
With Biden's checkered record in mind, Mic spoke with five Muslims about their feelings regarding the new administration. Overwhelmingly, each cautioned that the devastation wrought on Muslim communities in the U.S. and abroad by Biden's past actions cannot be forgotten in pursuit of a symbolic presidency.