Is there another coronavirus check in your future? Maybe!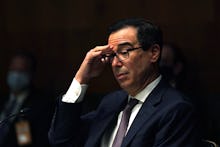 Pool/Getty Images News/Getty Images
If it's day of the week starting with a M, T, W, F, or S, that means we are, once again, forced to wonder when — or even if — the federal government will recognize that the coronavirus pandemic is still ravaging the country, and that Americans from all walks of life are desperately in need of another COVID-19 relief bill to ease the crushing economic pressure that the virus continues to apply on people and businesses alike.
Because although Republicans and Democrats are once again haggling over a second coronavirus relief package, they only do so after months of relative silence and stalled negotiations that have restarted in no small part thanks to the impending deadline of Congress's upcoming election season break — after which neither party will be able to run on having delivered additional relief for the public.
"[Congressional Democrats and the White House] come from two different places," House Speaker Nancy Pelosi explained during a Thursday press briefing. "Hopefully we can find our common ground on this and do so soon."
"Nancy Pelosi is not being serious," White House Press Secretary Kayleigh McEnany countered later in the day. "If she becomes serious then we can have a discussion."
Pelosi has been negotiating mostly with Treasury Secretary Steven Mnuchin. Among the issues being hammered out in the negotiation process is a second round of stimulus checks — something both sides have signaled they want to see happen —  as well as additional funding for local governments. Whether or not businesses should receive liability protection during the pandemic is also a major priority for Senate Majority Leader Mitch McConnell (R-Ky.), who seemed decidedly pessimistic about a deal being reached before the pre-election break.
"I think it's safe to say we're far apart," he told reporters Wednesday, reiterating later that "we are very, very far apart."
Indeed, Democrats and Republicans are roughly $600 billion apart in their respective relief package proposals, with the White House countering the Democrats' $2.2 trillion deal on Thursday by proposing a $1.6 trillion alternative. Congressional Democrats, meanwhile, planed to move ahead on a vote in the House later Thursday for their initial bill — itself a pared down version of their more robust $3.4 trillion offering from this past spring.
While the House bill would likely be D.O.A. upon reaching the Republican-controlled Senate, it would at least show action on the Democrats' part, which lawmakers can then take back to their constituents. Ultimately, both sides seem confident that some sort of further stimulus deal will likely happen — but whether it will be locked in before the election, or even the new year, remains to be seen.