These high-tech triathlon watches were designed for multi-sport athletes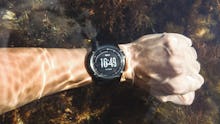 Breslavtsev Oleg/Shutterstock
When you're training for a triathlon, it's helpful to have data to identify your strengths as well as pinpoint the areas you still need to improve. Sports watches are a convenient tool for this — they offer key metrics such as heart rate, speed, distance, steps, and laps. The best triathlon watches incorporate a number of features:
Waterproof design: This is mandatory for any triathlon watch — you can't train for a swimming race without a fully waterproof device. Your watch should be able to withstand up to at least 50 meters of depth and ideally have a "swim" mode too, so you can track laps and distance. More advanced options will also count things like strokes, pace, and swimming efficiency (SWOLF).
Heart rate monitor: While not absolutely essential, this feature is extremely helpful for triathletes. It gives you valuable insight into the intensity of the training sessions so you can pace yourself properly (without having to hold your fingers to your neck every five minutes).
Robust battery life: Depending on whether you're running a sprint or an Ironman, your required battery life will differ, but six to eight hours is typically a good minimum. On top of that, it should be able to operate for that duration while the heavy-data features such as GPS tracking and music playback are in use.
Multi-sport transition: This is the ease with which you can switch between sports modes. The best sports watches can either detect a transition automatically or have features that make it simple to shift modes without fiddling with a lot of buttons.
GPS tracking: Another nonessential (but highly desirable) feature is GPS tracking, which lets you see exactly where you've been during your race. Just keep in mind that this mode tends to suck up a lot of battery life.
Another important factor to consider is durability. Unlike a regular fitness tracker that you'd wear to the gym or out power walking, your triathlon watch will get subjected to serious wear and tear — dust, dirt, saltwater, sweat, etc. You want it to be able to withstand these tough elements without falling apart.
Below, I've made a list of the best triathlon watches out there. I included two higher-end options with smartphone syncing capabilities, as well as a basic budget watch for simple metrics tracking. Scroll through to find the one that's best for your needs and budget.
We only recommend products we love and that we think you will, too. We may receive a portion of sales from products purchased from this article, which was written by our Commerce team.