These best-selling, TSA-approved luggage on Amazon locks will give you peace of mind on your trip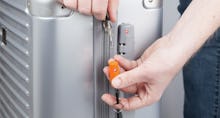 Amazon
No matter where you're headed, the best luggage locks can keep your belongings safe and secure — even when you're nowhere near your suitcase. That being said, while it may seem like a relatively straightforward purchase, there are actually a surprising number of factors to consider before adding one to your cart. A little preliminary research can help you to avoid damaged luggage and headaches down the road.
First, when shopping for luggage locks, one of the biggest questions that arises is, "Does a lock have to be TSA-approved?" In short, it's definitely recommended if you'll be flying. In the event that airport security needs to search your bag while you're not present, the TSA has a master key that will work on all compliant locks — but if the lock isn't approved, they reserve the right to cut it off and go through your bag anyway. If that happens, TSA can't be held liable for the now-broken lock, or any damage to your suitcase that may have ensued in the process.
Next, consider which lock style is best for your needs. Most standard options use a combination lock, which won't require any secondary tools that you could potentially lose. Other models use keys or keycards, which are often better-suited for people who have trouble remembering their combinations. Finally, more technologically advanced options can be opened with a fingerprint or via an app on your phone — but definitely note that these ones are very rarely TSA-approved.
Whichever type you choose, be sure to check that it's suitable for luggage and not just lockers or doors; most suitcase-friendly locks work by securing the zippers together, so if the cord or the padlock is too thick, it won't be compatible. If you're looking to boost your safety and security while traveling, these highly rated luggage locks can help.