Trump's push to open the country by Easter is reportedly driven by his personal boredom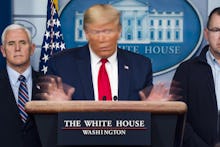 Bloomberg/Bloomberg/Getty Images
In a sign of just how serious America's coronavirus pandemic has become, the iconically unflappable Waffle House announced this week that it was closing more than 350 restaurant locations across the country to help mitigate the accelerating spread of the novel COVID-19 virus. Given the degree to which the chain has become synonymous with staying open during some of the most significant natural disasters, many took the closures as proof positive that shit has gotten extremely, alarmingly real.
Nevertheless, while the nation hunkers down (or doesn't) during what may well be the worst global crisis in a generation, President Trump seemingly has gone out of his way to endanger Americans by encouraging workers to return to their jobs and re-"open" the economy by Easter — well before health experts insist is a safe time frame to ease social distancing restrictions.
During a virtual Fox News town hall, Trump declared he wanted "packed churches" on Easter Sunday — a sign that he not only believes the virus could be stopped by a border wall, but that it also shies away from holy ground, like a vampire.
In part, the president's medically inadvisable push for an economic, rather than public health-based solution to the coronavirus can likely be traced to the degree to which "money" and "self-worth" appear to be inextricably linked in his head. If the stock market — which has been in free fall for much of the pandemic — suddenly looks good, then he too, Trump figures, also looks good, mortality rates be damned.
But there's another, more universal explanation for the president's need for things to go back to something approximating normal: He's apparently bored as hell.
According to a CNN report published Wednesday, the president is reportedly suffering from some serious cabin fever, wandering around a dramatically under-staffed White House, interrupting meetings, and generally keeping everyone on edge as a result of his inability to handle isolation.
Per CNN, Trump has not only been asking aides when things will go back to how they once were, but has begun "crashing meetings of his coronavirus task force, inserting himself into planned press conferences, and tearing apart daily schedules so his appearances better align with television viewership patterns."
This is not, despite his daily insistences to the contrary, the behavior of someone who is comfortable with how everything is going. In fact, one need look no further than the cursed swamp of the president's Twitter timeline Wednesday to see just what important matters of state have his undivided attention. Namely: being a petty jerk.
So now, at the same time the U.S. surgeon general has warned America that "this week, it's going to get bad," the president is busy posting early morning cringe and puttering around the White House looking for something to occupy his time.
Personally, I'm not looking forward to whatever comes next.