The 5 biggest takeaways from The New York Times's bombshell Trump tax report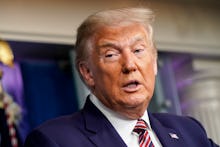 Joshua Roberts/Getty Images News/Getty Images
For years, President Trump's tax returns have been the topic of interest. Trump has done all he can to keep these records out of the hands of investigators and away from the eyes of the general public. But over the weekend, The New York Times published a detailed report of Trump's tax contributions from the past 20 years.
Earlier this summer, the Supreme Court ruled that Trump cannot keep his tax records from Manhattan District Attorney Cy Vance. Going to the Supreme Court was Trump's last bid for secrecy. While the court's ruling didn't mean Trump had to reveal his tax returns to the public, the decision is partly out of his hands now.
The Times reported that it received tax return data on both Trump and his companies. The outlet noted that Trump's refusal to release this information on his own made him the first president in decades who hid "basic details about his finances."
In response, Trump took to Twitter to bash the report, writing, "The fake news media, just like election time 2016, is bringing up my taxes and all sorts of other nonsense with illegally obtained information and only bad intent. I paid many millions of dollars in taxes but was entitled, like everyone else, to depreciation and tax credits ... "
While Trump claims he's paid millions in taxes, the Times's report says that's not quite true. Here are five of the biggest takeaways from the Times's bombshell of a report.