The Tyre Nichols footage will soon be everywhere. Here's how to mentally prepare.
There's no need to share the video, but there are things you can do.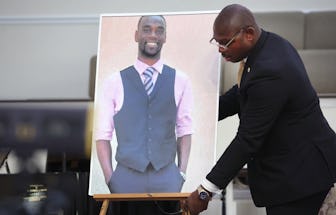 Scott Olson/Getty Images News/Getty Images
There is no other word but heartbreaking. As Memphis police prepare to release bodycam footage tonight of five officers fatally beating Tyre Nichols, people all over the country are bracing for the reckoning that comes with yet another Black life being senselessly taken at the hands of law enforcement.
Nichols, 29, died in the hospital three days after a Jan. 7 traffic stop by Memphis police. While an official cause of death has not been released as of Jan. 27, a forensic pathologist hired by the Nichols family determined Nichols "suffered extensive bleeding caused by a severe beating," family attorneys Benjamin Crump and Antonio Romanucci said, as NBC News reported. Following an administrative investigation, the five officers involved in the killing, Tadarrius Bean, Demetrius Haley, Emmitt Martin III, Desmond Mills Jr., and Justin Smith, were all fired for violating the department's policy on use of force and subsequently charged with murder.
In a Jan. 25 video statement, Police Chief Cerelyn "CJ" Davis called what transpired, as seen in the bodycam footage, "heinous, reckless, and inhumane." Nichols' family viewed the footage ahead of its public release and shared their reactions during a candlelight vigil on Monday; his mother, RowVaughn Wells, described it as "horrific," and Romanucci said it depicted three minutes of "unadulterated, unabashed, nonstop beating." According to Crump, Nichols' last words as heard in the video were three "gut-wrenching screams for his mom."
In her video statement, Davis said, "I expect you to feel what the Nichols family feels. I expect you to feel outrage in the disregard of basic human rights, as our police officers have taken an oath to do the opposite of what transpired on the video."
Let's be clear: The depiction of violence against Black lives should never be normalized. You do not have to watch the video to believe what happened, to feel rage about Nichols' death and the ongoing pattern of police brutality in this country, and to fight for change. That said, if you do watch it, here's how to proceed and cope.
If you come across the video, don't share it.
We already know, based on statements from the police and the Nichols family, that the bodycam footage that's about to be released will be extremely graphic. Videos like these are not only extremely traumatic to watch, but they also dehumanize the victims of violence — adding to the centuries-old pattern of Black people in America being dehumanized, as Refinery29 noted in 2020. However, with the internet being the way it is, it's almost impossible to avoid seeing something you don't want to see (turning off video auto-play in your phone's settings can help).
Even so, that doesn't mean you have to share it yourself; in fact, you shouldn't. Regardless of why you watched the video, sharing it ensures it stays in circulation even longer, continuing the cycle of "trauma porn" and dehumanization. "We can read a description of the events. We live in a violent culture, and serving around these clips as entertainment only really makes us more violent," Monnica Williams, Ph.D., a clinical psychologist and expert on racial trauma, told CNN. "I don't think the solution is 'Let's all watch and gawk and stoke our outrage.' We are outraged enough already without the added trauma of searing these images into our minds."
If you want to make a call to action to fight against police brutality and protect Black lives, that's great; you can do so with your words and with facts and statistics. And if you want people to say Tyre Nichols' name and share his story, you can do that without including the horrifying images of his death.
Remember how Tyre lived, and respect his family's wishes.
Nichols' family has deliberately been sharing positive memories and stories about him. If you're participating in any social media discourse, focus your energy on spreading awareness by highlighting the tragedy of Nichols' lost life, not the brutal nature of his death. Instead of doom-scrolling, read about how much he loved his parents (he even had a tattoo of his mom's name), and how he was a father himself, and that he became friends with a group of people coincidentally at Starbucks and continued to meet with them multiple times a week, and that he loved sunsets. Check out his original photography (one of his passions outside of his job at FedEx), and watch the video compilation of him skateboarding (another passion) that his family recently shared with the public. These are the ways the Nichols family wants Tyre to be remembered.
As for the response to his death, ahead of the video's release, public officials across the U.S. are preparing for widespread social unrest. However, the Nichols family has urged the public to keep protests peaceful. "Our family is grief-stricken right now and this is very hard to swallow," Wells said at a Jan. 26 candlelight vigil in Memphis' Tobey Park. "I don't want us burning up our cities, tearing up the streets, because that's not what my son stood for."
Know your limits and be mindful of your mental health.
According to a 2017 study on the trauma caused by watching violent content, researchers found that people who encounter such videos can suffer long-lasting effects, "such as negative stress reactions, anxiety, and in some cases post-traumatic stress disorders (PTSD)." That's why it's critical to understand how watching these videos can affect your brain before being exposed to them — and to be honest with yourself about your own history of trauma.
"I oftentimes tell people to know yourself before you consume the content, because everybody responds to these types of images differently," Erlanger A. Turner, Ph.D., psychologist and assistant professor of psychology at Pepperdine University, told CNN. "Some people can see it and they can be sort of OK. Other people, it could trigger some really strong emotions. If you do decide to watch the video, be prepared to be stressed, and take care of yourself."
Similarly to how you process the reality of a faraway war, make sure you're grounded and connected to your support system and your own coping tools and strategies, whether that's therapy sessions, meditation, or journaling. Consider what you can do to help — from attending protests or calling political leaders to donating to mutual aid and activist organizations. Not only do those actions support a larger cause, but they can also lead you to feel less helpless and more hopeful.