10 years ago, these clever products were extremely expensive — but now they're SO cheap on Amazon
You'll be shocked how inexpensive these things are.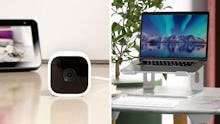 We may receive a portion of sales if you purchase a product through a link in this article.
I definitely used to avoid buying things that I needed if they were super pricey the last time I checked (I'm looking at you — external hard drive). There are just those things that are infamous for being so extremely expensive — but they only used to be expensive.
I wondered if things that used to cost an arm and a leg have actually gotten cheaper, and these things have. They're all available on Amazon, too, so it may finally be time to invest in the tech, home, and skincare products you've been putting off buying.