30 ways you're neglecting your body that'll cost you later
These unhealthy habits are easier to break than you may think.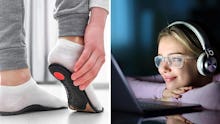 Amazon
We may receive a portion of sales if you purchase a product through a link in this article.
Life is busy. From work and kids to making time for your social life (and everything in between), many people forget to prioritize the thing that matters most: their own well-being.
Remembering to recharge your body is the first step to making sure everything else in your life is running smoothly. Ahead, you'll discover a list of 30 incredible products that might just be the solution you've been looking for when it comes to getting back on track and taking good care of yourself.