35 things you are forgetting to do that are making your home kinda gross
Don't worry, these oversights are easy to fix.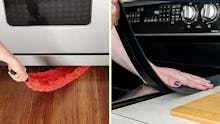 We may receive a portion of sales if you purchase a product through a link in this article.
With so much going on in your life, sometimes home maintenance gets put on the back burner. Have you ever stopped to take a deep breath, only to realize there are so many basic things you're forgetting to do that are making your home a little, well, disgusting?
Not to worry; here's a list of those things around the house that tend to creep up on you — along with quick ways to address them. Now you can take care of them before you have that startling moment when your mom or out-of-town guests are about to arrive and your stomach drops through the floor. You can thank me later...