40 mistakes you're making around the house that make your place look bad
Don't worry — your cheap, easy solutions can be found here.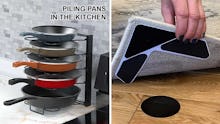 We may receive a portion of sales if you purchase a product through a link in this article.
For those of us who live in the real world — and not in a show home ripped from the pages of a glossy architectural magazine sitting on a coffee table — keeping up with the house is an ongoing challenge. Work, family, and having a life don't leave much room for curating an interior, let alone just keeping things clean and tidy. And chances are, you're making a few mistakes around the house that downgrade the look and functionality of your space.
Look, you're not alone — I can't think of one thing on this list that I'm not also guilty of. (Maybe don't come and stay with me, am I right?) But I'm highlighting these errors so that none of us have to live with them — and luckily, there are cheap and easy fixes. All you have to do is put one or two of these cheap home upgrades to use in any given room to start really noticing an improvement. You deserve a home you truly enjoy, so treat yourself today.