40 things you're accidentally neglecting & it'll cost you later
Even if you forget things, these products will help.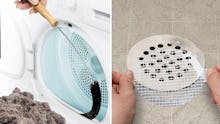 Amazon
We may receive a portion of sales if you purchase a product through a link in this article.
There are things in life that are honestly easy to neglect. I mean, something has to get accidentally forgotten while we're all running around, whether you forget to water your plants, floss your teeth, or keep your tires inflated. Whatever it is that you tend to forget about, or whatever chore you intentionally skip over (we all do it), it might actually cost you later on.
That's why I made this list to take care of those chores — without a bunch of effort.