6 minority-owned cannabis companies that are addressing inequality in the industry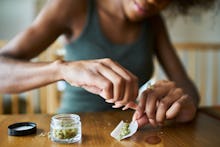 Joshua Resnick/Shutterstock
As cannabis legalization sweeps across the country, many point to it as a way of repairing the War on Drugs' harmful impacts on communities of color. But while work is being done in this regard, the data shows that legalization doesn't automatically lead to reparations. People of color are still greatly underrepresented in the marijuana industry, making it more important than ever to support minority-owned cannabis businesses.
According to a 2016 Drug Policy Alliance report, although arrests had fallen in states that had legalized cannabis, Black people were still more likely to be arrested than white people for weed. Additionally, a 2017 Marijuana Business Daily report found that 81% of cannabis business owners and founders were white. Eliminating these disparities will require years of effort by policymakers and others, but supporting cannabis businesses that are Black and Brown-owned and/or committed to racial equity can help ensure that your weed consumption doesn't further perpetuate the industry's issues. Check out these six businesses to get started.
Blunts + Moore
Staffed primarily by Oakland residents, the dispensary offers an array of products such as flowers, pre-rolls, extracts, topicals, and edibles. Blunts + Moore is also the first dispensary to open under Oakland's social equity program, which grants dispensary permits to people convicted of cannabis-related crimes in Oakland or from neighborhoods in the city that had been disproportionately harmed by the War on Drugs.
Blunts + More's co-owner Alphonso T. Blunt, Jr. was sentenced to five years' probation for a cannabis felony after a wholesale dealer snitched on him in 2003, according to Leafly, qualifying him for an equity permit. His business partner, Brittany Moore, is a member of several organizations that empower women and people of color in the cannabis industry, including Hood Incubator, Women Grow, and the Minority Cannabis Business Association.
Apothecarry
For those seeking to upgrade their weed storage options from the usual Ziploc baggies, Apothecarry offers sleek, airtight hardwood humidors with vegan leatherette-lined compartments — plus a lock to secure your herb from pets or roommates. Founded by mother and former TV executive Whitney Beatty, Apothecarry also sells upscale dab jars, grinders, and other accessories.
Its broader mission, though, is to shift the image of cannabis users from couch potatoes to, say, working professionals who enjoy lighting up after a long day at the office — including female entrepreneurs of color like Beatty herself, according to an LA Weekly interview. "I think there's an even deeper stigma sometimes against African Americans," Beatty told the newspaper. "This industry is here, it's growing, it's booming — and I don't want to see us get cut out."
Simply Pure
Simply Pure runs a small-batch farm that won the title of Best Flavor Champion in Colorado's The Grow Off Competition in 2018, and its comprehensive menu includes flowers, concentrates, plus vegan edibles and other cannabis-infused products.
Military veterans and husband-and-wife duo Wanda James and Scott Durrah launched the dispensary in 2010, making it the first Black-owned dispensary in Denver. James — whose brother received a 10-year prison sentence for cannabis possession when he was a teenager, per the Colorado Springs Independent — is a vocal advocate of criminal justice reform and equity in the cannabis industry.
Kush & Cute
Kush & Cute sells adorably packaged, cannabis-infused skincare products, including a High Healthy Skin Beauty Oil and Wake & Bake Coffee Scrub. Other offerings include accessories such as ice-cream cone shaped pipes, cannabis leaf earrings and a gold blunt ring holder.
In an interview with Jane Dope, founder Iyana Edouard revealed that she was inspired to launch Kush & Cute when she attended a cannabis conference, only to discover that she was the only Black woman present. "Instead of becoming discouraged by the sense of lack in industry and the various reasons as to why, I decided to do something about it," she wrote on Kush & Cute's website.
Happy Organics
Based in Merced, California, this Latinx-owned business sells honey, salves, lip balm, and other products infused with hemp-derived CBD. ABC 13 reports that founder Jessica Gonzalez came up with the idea for Happy Organics when her father, a beekeeper on their family farm, was diagnosed with terminal cancer; Gonzalez blended their raw harvested honey with CBD to treat his pain.
According to Happy Organics' website, most of Gonzalez's products are made using the wax and honey the bees on her family's farm produce. To keep the bees healthy, Happy Organics doesn't use pesticides, herbicides, or other chemicals on the farm.
Mary and Main
Mary and Main opened its doors in Capitol Heights, Maryland in 2018, making co-owner Hope Wiseman, only 26 at the time, the youngest Black dispensary owner in the U.S. In an interview with WUSA 9, Wiseman said that she hoped Mary and Main would encourage more African Americans to enter the cannabis industry.
Besides selling a variety of products, Mary and Main also hosts classes, including a crash course on the cannabis industry that Wiseman recently taught with her mother and dispensary co-owner, Octavia.
Before buying weed or related products, research the company in the same way you would your coffee or clothing to ensure that its offerings are ethically sourced. By doing your homework, you'll be acknowledging the history of oppression that surrounds marijuana and showing your support for minority business owners.